"Restore? There is a way to bring back my left arm!?"

This article seems to be a stub... You can help D.Gray-man Encyclopedia by expanding it.
The
Rabbit Akuma
is a level 2
Akuma
sent in
Paris
to capture
Timothy Hearst
. Hee is one of the
antagonists of the Phantom Thief G Arc.
Appearance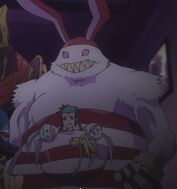 He appears as a big humanoid white rabbit thrice the size of a man. He has sharp teeth and red and white stipes and no iris. His long ears are also stripped. He has a kangaroo-like pocket in which are two little rabbits and where he puts those he captures.
His human form is that of a well dresed man with fair hair, a chapeau and a cane.
Personnality
Plot
Ad blocker interference detected!
Wikia is a free-to-use site that makes money from advertising. We have a modified experience for viewers using ad blockers

Wikia is not accessible if you've made further modifications. Remove the custom ad blocker rule(s) and the page will load as expected.