Ad blocker interference detected!
Wikia is a free-to-use site that makes money from advertising. We have a modified experience for viewers using ad blockers

Wikia is not accessible if you've made further modifications. Remove the custom ad blocker rule(s) and the page will load as expected.
When the series is getting into a anime, there is music. There are opening and ending themes about the series, showing the main cast of D.Gray-man. Mostly opening and ending themes are cut to 1:30 or more by TV Tokyo. The anime series also shows soundtracks also known as background music that is heard on each moment in the series. Here is a list of various music themes used in the D.Gray-man anime series.
List of Musics
Opening Themes
Ending Themes
Anime Soundtracks
D. Gray-man Original Soundtrack 1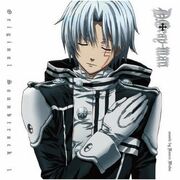 Kuro no Seishokusha Exorcist (English Translation: Exorcist, A Black Clergyman)
Allen Walker
Haikyo no Naka de (English Translation: In The Ruins)
Sennen Hakushaku (English Translation: The Millennium Earl)
Innocence Hatsudou (English Translation: Innocence Activate)
Kanda Yu (English Translation: Kanda Yu)
Roku Maboroshi Hatsudou (English Translation: Mugen Activate)
Komui Shitsuchou (English Translation: Chief Monitor Komui)
Home no Nakama Tachi (English Translation: Friends At Home)
Kyoudan no Ichinichi (English Translation: A Day In The Order)
Kami no Kesshou (English Translation: God's Crystal)
Ishi Hako no Message (English Translation: The Message In The Cube)
Sennen Hakushaku no Takurami (English Translation: The Millennium Earl's Plan)
Akusei Heiki AKUMA (Engliah Translation: Malignat Weapon AKUMA [Demon] )
Kanashimi no Tamashii (English Translation: Sadness Of Soul)
Lala no Komori Uta (English Translation: Lala's Lullaby)
Tamashii no Kyuusai (English Translation: Salvation Of Soul)
Omoide no Naka ni (English Translation: In His Memory)
Shiawase na Hibi (English Translation: Happy Days)
Jean to Leo (English Translation: Jean And Leo)
Maki Modoshi no Machi (English Translation: Female Give Back Of Town)
Road Camelot
Noa no Ichizoku (English Translation: Noah Family [Noah Clan] )
Kikai to Tamashii to Higeki (English Translation: Machine And Soul and Tragedy)
Kami ni Tori Tsukareta Shito (English Translation: God Two In The Heart Tired.)
Fuan to Noroi (English Translation: Uneasiness And To Curse)
Yochou (English Translation: Omen)
AKUMA no Shuugeki (English Translation: DEMON Of Attack)
Gekisen (English Translation: Violent Battle)
Hakai (English Tranlation: Destruction)
Kikan (English Translation: Repatriation)
D. Gray-man Original Soundtrack 2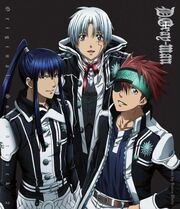 Brightdown
Kuro no Kyoudan (English Translation: The Black Order)
Nakama to Tomoni (English Translation: Friend Of Tomorrow)
Keishousha Rabbi (English Translation: Successor Lavi)
Bookman
Arystar Krory
Kyuuketsuki no Shiro  (English Translation: Vampire Of The Castle)
Eliade to no Ai (English Translation: Eliade And The Love)
Tyki Mikk
Sennen Ooyake Kara no Message (English Translation: The Millennium Earl's Open from Message)
Togaochi ~Suman Dark~ (English Translation: Fallen One - Suman Dark-)
AKUMA Shuurai (English Translation: DEMON Attack)
Ikuukan (English Translation: Other Dimension [Unusual Space] )
Noah Heya (English Translation: Noah Room)
Tabi no Kyuusoku (English Translation: Journey Relief)
Kyoudan no Nakama Tachi (English Translation: Dark Order And Friends)
Komui no Jikken Shitsu (English Translation: Komui And Experiments)
Tabi no Tochuu de (English Translation: In The Middle Of The Journey)
Koigokoro (English Translation: Love)
Arata na Deai (English Translation: New Meeting)
Saikai (English Translation: Reunion)
Tamashii no Iyashi (English Translation:To Heal The Soul)
Kuroi Mori (English Translation: Black Forest)
Inbou (English Translation: Conspiracy [Plot Intrigue] )
Ketsudan no Toki (English Translation: Difficult Decision)
Semari Kuru Kiki (English Translation: Close Black Effect)
Gunshuu (English Translation: Throng [Crowd, Mob, Group, Multitude] )
Gyakushuu (English Translation: Counterattack)
Futatabi Tatakai he (English Translation: Conflict Again [Struggle, Fight, Battle] )
Yume no Tsuzuki he
Antoinette Blue
D. Gray-man Original Soundtrack 3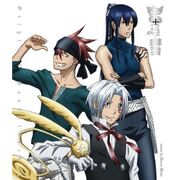 The Earl's Monologue
Crowned Clown
Foreboding
Comrades in the Asian Branch
Bak and Fou
Anita
The Men of the Sea
Level 3
Japanese Landing
Chomosuke
The Ark's Appearance
Melody of Sighing
Noah's Memory
Exorcist VS. Noah
Jasdevi
Tyki's Awakening
Lavi's Agony
The Determination to Fight
Good News
In the Hand Which Is Connected by a Kiss(Tsunaida te ni Kiss wo) Musician
To Home
Malcolm C. Leverrier
Headquarters Attacked
Cross Marian
Darkness 4
Red Resolve
Next Stage
Anata ga Koko ni Iru Riyū