Ad blocker interference detected!
Wikia is a free-to-use site that makes money from advertising. We have a modified experience for viewers using ad blockers

Wikia is not accessible if you've made further modifications. Remove the custom ad blocker rule(s) and the page will load as expected.

Welcome to D.Gray-man Encyclopedia.

The D.Gray-man Encyclopedia currently has 490 articles and 2,295 files since April 2008.

WARNING

: This wiki contains an abundance of spoilers related to the D.Gray-man series, including information from chapters not yet released in tankōbon format. There will be spoilers. Read at your own risk.
Plot of D.Gray-man
Main article: D.Gray-man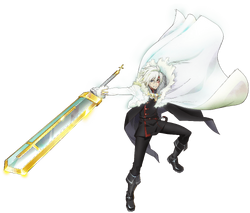 See also: Timeline and Story ArcsAllen Walker a 15-year old kid whose left arm can transform into a monstrous claw and destroy Akuma, evolving machines created by The Earl of Millennium to help him destroy humanity. He got trained by one of the Black Order generals Cross Marian which he told him that he can become an Exorcist, humans who can destroy Akuma, for the Black Order, an organization attempting to stop the Earl. Allen became a powerful asset for the organization because he can detect disguised Akuma's with his Cursed Eye. The Earl decided to gather the Noah Family superhuman descendants of Noah who can destroy Innocence. Both side start to make their search for the Heart the most powerful piece of Innocence that will ensure victory to the side that finds it. As soon, the Order finds out that Allen is to succeed Nea Walker a Noah that betrayed and was killed by the Earl, as the 14th Noah. This leads the Order to suspect that Allen might betray them, and he is eventually confined. The Noah frees him to rescue Allen from the Apocryphos, a sentient Innocence that guards the Heart, causing the Order to revoke Allen's rights as an Exorcist and treat him as a Noah.
Did you know...
...That the title D.Gray-man is based about the main character Allen Walker?
...That Allen Walker first had red hair?
...That the characters where been adapted by Hoshino's previous works "Zone" and "Continue"?
...That D.Gray-man series ranked as the ninth best seller series of the Weekly Shōnen Jump magazine?
...That Hoshino moved to Tokyo in 1998 which she also dreamed of bringing her mother to the city which she was able to do it in 2006?