New feature Achievement has been enabled! Have fun and get achievements by contributing to the wiki!


Welcome to D.Gray-man Encyclopedia.'
Click on the rectangles above to navigate and immerse yourself into the world of D.Gray-Man!
Help • Forums • Policy • Community Portal'
Hello and welcome to D.Gray-Man Encyclopedia, the encyclopedia for the anime and manga that anyone can edit. We currently have 588 articles and 2,639 files since April 2008, please feel free to contribute to our site and help use build the most informative site about the work of Katsura Hoshino. Don't hesitate to check our forums if you will to discuss the manga, anime or other stuff!
Please be aware, before progressing any further, that this site contains heavy SPOILERS.
Random Featured Article
Random Featured Article
Reever Wenhamm is a member of the Black Order and the current Chief of the European Branch Science Section and Division and Science Division Section One.
|}
Plot of D.Gray-man
Main article: [[See also: Timeline and Story Arcs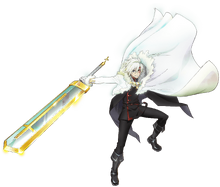 Allen Walker is a 15-year old kid whose left arm can transform into a monstrous claw and destroy Akumas, evolving machines created by The Earl of Millennium to help him destroy humanity. He got trained by one of the Black Order generals Cross Marian which he told him that he can become an Exorcist, humans who can destroy Akuma, for the Black Order, an organization attempting to stop the Earl. Allen became a powerful asset for the organization because he can detect disguised Akuma's with his Cursed Eye. During his battle, Allen meets others exorcists namely Lenalee Lee a young chinese girl, Yu Kanda a japanese swordsman and Lavi heir of the Bookman Clan and makes many friends. But The Earl gathes the Noah Family superhuman descendants of Noah who can destroy Innocence. Both side start to make their search for the Heart the most powerful piece of Innocence that will ensure victory to the side that finds it.]]
Sondages
You can propose your own poll here!
Click on the other tabs to vote for the other polls (beware of the "spoiler" poll which gives spoilers about the latest chapters)
---
Which is the coolest Noah's ability?
Who is your favorite general?
What is the link between Nea and Tyki?
div> |}
Did You know...?
...That Kanda was a dog person?
<option>
...That Akuma's blood tasted like tomato juice?
Affiliations

hr:עמוד_ראשי |}
Ad blocker interference detected!
Wikia is a free-to-use site that makes money from advertising. We have a modified experience for viewers using ad blockers

Wikia is not accessible if you've made further modifications. Remove the custom ad blocker rule(s) and the page will load as expected.