See also: Katsura Hoshino, Universe, and Canon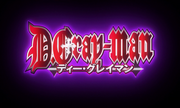 D.Gray-man (ディー・グレイマン, Dī Gureiman) is a Japanese manga series written and illustrated by Katsura Hoshino, published by Shueisha and currently appearing in the quarterly magazine Jump SQ Crown a special issue of Jump Square. The series was initial released every monday of the week in the magazine Weekly Shōnen Jump but has been placed to the monthly magazine because of Hoshino's health issues which the series had to go a lot of times on hiatus evenly sometimes for a long time. Before it was released in Jump Square, few chapters had been released in Akamaru Jump. In total, there are 25 volumes released and 223 chapters, since it's release on Monday 31 May, 2004. The manga series got licensed in North America by Viz Media. In total they published 24 volumes of the series.
The series has also been adopted into a episode anime that aired from October 3, 2006 to September 30, 2008 in Japan, and two seasons has been released which season two called "Second Stage". The anime series has been licensed by FUNimation but only showed the first season of the anime series. In 2016 the anime was offered a continuation of 13 episodes with the name of D.Gray-Man Hallow.
Synopsis
See also: Timeline and Story ArcsAllen Walker a 15-year old kid whose left arm can transform into a monstrous claw and destroy Akumas, evolving machines created by The Earl of Millennium to help him destroy humanity. He got trained by one of the Black Order generals Cross Marian which he told him that he can become an Exorcist, humans who can destroy Akuma, for the Black Order, an organization attempting to stop the Earl. Allen became a powerful asset for the organization because he can detect disguised Akuma's with his Cursed Eye. During his battle, Allen meets others exorcists namely Lenalee Lee a young chinese girl, Yu Kanda a japanese swordsman and Lavi heir of the Bookman Clan and makes many friends. But The Earl gathes the Noah Family superhuman descendants of Noah who can destroy Innocence. Both side start to make their search for the Heart the most powerful piece of Innocence that will ensure victory to the side that finds it.
Trivia
Fans claiming that "D.Gray-man" full name is "Devil" or "Demon Gray-man". The name D.Gray-man is a reference to Allen Walker, the main protagonist of the entire series due to his white or grey hair, demonic hand and eye.
Ad blocker interference detected!
Wikia is a free-to-use site that makes money from advertising. We have a modified experience for viewers using ad blockers

Wikia is not accessible if you've made further modifications. Remove the custom ad blocker rule(s) and the page will load as expected.