The
Campbell Residence
is the estate of the Campbell family.
Description
Edit
It is a large residence with many windows and a front door. The walls are covered with Ivy and a chemny is visible. It is surrounded by huge wheat fields in which we can find a tree.
The knotty and leafless tree is named Cornelia.
In the past
Edit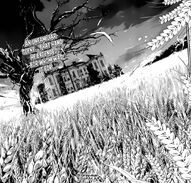 At some point Katerina Eve Campbell met a man who happens to be the Earl of Millennium in the fields.
When he disappeared and turned into two babies she raised them as her own children in the residence.
It seems like besides Katerina and her two children several people lived there including Cyrus D.Campbell and Bennet.[1]
Search for A.W Arc
Edit
Currently the residence is inhabited by Katerina, Lucia and Naaga along with Ur-Campy.
They received and hosted Bookman until he woke up.
References
Edit
Ad blocker interference detected!
Wikia is a free-to-use site that makes money from advertising. We have a modified experience for viewers using ad blockers

Wikia is not accessible if you've made further modifications. Remove the custom ad blocker rule(s) and the page will load as expected.